Brussels is one of Europe's best winter city breaks. The city is home to great museums, concert venues, incredible art nouveau architecture and Brussels Christmas Market.
Many people visit Brussels purely for the food, whether that means eating out in top restaurants, enjoying street food like Belgian frites or treating themselves to the best chocolate in the world. But a winter visit gives you the added option of traditional Christmas specialties.
In this guide, you'll find confirmed market dates for 2023, plus opening times, locations and what to find at the Christmas chalets.
In Brussels, you'll find one of the most beautiful squares in the world, known as the Grand Place. This is the location of the main Christmas market in Brussels.
The square is decorated with colourful Christmas lights and ornaments, and you'll find a huge Christmas tree and Nativity scene at its centre, surrounded by wooden Christmas chalets.
Brussels Christmas Market 2023
Brussels Christmas Market is known as Winter Wonders. At Winter Wonders, you'll find around 240 wooden chalets spread out around Grand Place and neighbouring squares.
Dates and Location
Brussels Christmas Market dates: 24th November to 31st December 2023.
Location: Grand-Place and extending to the Bourse, Place Sainte-Catherine, Marché aux Poissons and Place de la Monnaie.
Opening times: 12 noon to 10pm daily except on Christmas Eve and New Year's Eve when it closes at 6pm.
Christmas Day: Closed.
Admission: Free, no tickets required.
Santa: Yes, on some days.
Ice skating: Yes, there is an 800m² skating rink at Grand-Place.
Vegetarian: Yes, plenty of options.
Vegan: Yes, plenty of options.
Gluten free: Yes, but limited.
Accessible: Yes.
Pet-friendly: Yes, but not recommended.
Parking: Please take public transport to help limit congestion.
Reason to visit: Grand-Place is one of the most beautiful, historic squares in Europe. There is ice skating, curling rinks, a Ferris wheel, rides, exhibitions, brass bands, choirs and festive trails.
Recommended tour: City highlights and food tasting walking tour.
Specialities: So many incredible food specialties. Chocolate, waffles, beer, fries, mussels, pastries.
Travel tips: If you're interested in architecture, Brussels is famous for its Art Nouveau mansions including the Horta Museum.
Where to stay: Rocco Forte Hotel Amigo is located just behind Hotel de Ville de Bruxelles (the Town Hall), steps from the Christmas market.
Hotels near Brussels Christmas Market
Brussels has several beautiful districts that are popular with visitors, but if you want to be near the Christmas markets, you'll want to stay as close to the Town Hall and Grand Place as possible.
I suggest staying at Rocco Forte Hotel Amigo as it's literally only 1 minute from Grand Place.
If that doesn't suit you, I prepared a list of hotels near Brussels Christmas Market that cover all budgets.
Location of Brussels Christmas Market
City and Food Tours
Exploring Brussels via a city tour is a brilliant opportunity to immerse oneself in the city's rich heritage and culture. Even during the chill of winter, Brussels, with its historic centre, vibrant facades and remarkable architecture, is a destination that thoroughly deserves a visit.
This walking city tour of Brussels is a good value option, particularly for those new to the city. Guided by a local expert, you'll gain insight into many of the city's highlights. It includes food tastings for a unique exploration of Brussels culture.
Christmas in Brussels
When in Brussels this Christmas, look out for the incredible light displays and artwork around the city in a Christmas event known as Brussels by Lights.
Along with the artwork are 142 streets and shopping areas filled with lights, making Brussels at Christmas one of the most festive cities in Europe.
Discover Belgian Specialities
I recommend starting your visit by taking this Brussels food tour that includes 10 tastings of local specialties. This will give you a delicious overview of what you can find in Brussels.
Even if you don't consider yourself a foodie, I'm sure you'll want to try some of the incredible local specialties while in Brussels. Here are some examples of what you can expect.
Belgian chocolate – it goes without saying Brussels is famous for chocolate. You'll see plenty of well-known brands as you walk around, but some of the smaller artisan chocolate shops are often the best. This list will give you some options for where to go for delicious handmade chocolate or head directly to Place du Sablon, the heart of chocolate in Brussels.

Mary– 23 Grand Place, Brussels
Wittamer– 6 Place du Grand Sablon, Brussels
Pierre Marcolini– Place du Sablon, Brussels
Frederic Blondeel– 39 Rue de Ganshoren, Brussels
Darcis– Boulevard Lambermont, Brussels
Galler– 44 Rue au Beurre, Brussels

Frites (fries) – Belgian chips or fries are one of the best street foods you'll find in Brussels. You will find stalls at the Christmas markets but look out for the famous friteries around the city; some are tourist attractions in their own right.

Maison Antoine– Place Jourdan 1, Etterbeek. The most well-known, most touristy and still one of the best.
Fritkot Bompa– Avenue de la Couronne 71, Ixelles. One of the best suburban frites shops, perfect if you're staying in the fun Ixelles neighbourhood.
Friture Pitta de la Chapelle– Place de la Chapelle. Good option if you like crispy fries and the handy location near Place du Sablon near many of the chocolate shops.

Belgian waffles – Brussels waffles are the classic rectangular waffles that are typically offered with a huge number of decadent toppings. Liege waffles are thick, rounder waffles that are rich, sweet and a little chewy, often eaten on their own or simply with powdered sugar. Try both and pick a favourite.
Locally brewed beer – I'm not much of a beer drinker, but Belgian beer is world-renowned. There are plenty of breweries and pubs where you can try or visit a supermarket to pick out a few to enjoy in your hotel or back home.
Food at the Christmas Market
Belgian Waffles: As you wander the stalls of Brussels Christmas market, you're bound to come across the irresistible scent of freshly cooked Belgian waffles. These are unlike any other waffles you've tasted. Crisp on the outside and fluffy on the inside, they are often topped with a variety of indulgent toppings, like whipped cream, chocolate sauce, and fresh fruits.
Frites: A visit to Brussels isn't complete without trying the iconic frites. At the Christmas market, you'll find stalls serving these crunchy-on-the-outside, soft-on-the-inside chips, traditionally served in a cone with a dollop of mayonnaise on top. They make for a comforting snack on a chilly winter evening.
Mitraillette: This local speciality is essentially a sandwich, but with a Belgian twist. Filled with a baguette, fried meat, and a generous portion of frites, the mitraillette is then topped off with a sauce of your choice. It's a satisfying, hearty dish perfect for keeping the cold at bay.
Belgian Chocolates: Renowned worldwide, Belgian chocolates are a sweet lover's dream. At the market, you'll find a wide array of these exquisite delicacies in the form of pralines, truffles, and even hot chocolate drinks.
Gluhwein: To warm yourself up, get your hands on a cup of gluhwein. This mulled wine, steeped with spices and served hot, is a Christmas market staple and an international favourite.
Boudin: Sausages are popular across European Christmas markets, and in Brussels, you'll often see boudin, a local variety. These sausages come in white or black versions and are often served with apples or mashed potatoes.
Oliebollen: While not native to Belgium, Oliebollen are a delicious Dutch treat you might find at the Brussels Christmas market. These deep-fried dough balls, dusted with powdered sugar, make a delectable sweet treat.
Each stall is a new opportunity to discover the flavours of Brussels and further afield, so don't be afraid to try something new. Who knows, you might find your new favourite holiday treat.
What to Buy
Artisanal Belgian Chocolates: At the Christmas markets in Brussels, you'll find beautifully crafted Belgian chocolates. These aren't your regular supermarket chocolates but intricate confections made by skilled chocolatiers. Presented in decorative boxes, they make for an indulgent treat or a lovely gift.
Handmade Lace: Brussels is famed for its delicate, handmade lace. The market stalls often carry an assortment of lace items, from doilies to scarves and more. Each piece showcases the intricate craftsmanship and tradition that has made Brussels lace renowned worldwide.
Craft Beers: Belgium is known for its rich beer culture, and the Christmas market in Brussels doesn't disappoint. You can find a selection of locally brewed craft beers, ranging from the famous Trappist beers to lesser-known but equally delicious varieties. These make a unique gift for beer lovers or a tasty memento of your trip.
Local Artwork: Look out for stalls showcasing artwork from local artists. Whether it's a painting capturing Brussels' beautiful streets or a quirky sculpture, buying local artwork supports the city's creatives and gives you a unique piece to remember your visit.
Ceramic Glühwein Mugs: Just like in other Christmas markets, ceramic glühwein mugs are popular in Brussels too. Often decorated with festive themes and scenes of the city, these mugs serve a dual purpose. They hold your warming spiced wine and later become a charming keepsake.
Comic Strip Merchandise: Brussels has a deep-rooted comic strip culture, being the birthplace of Tintin and The Smurfs. You can find comic strip merchandise in the form of books, prints, and collectibles. These items are a perfect gift for comic book enthusiasts or a fun way to engage with a distinctive part of Brussels' cultural identity.
Each of these items encapsulates a slice of Brussels' spirit and makes for a fantastic memento or gift. While you explore the market, I recommend keeping an open mind and a keen eye, as you never know what unique treasures you might discover.
I rate Brussels as the best Christmas market in Belgium. Click through to see which other destinations make the list.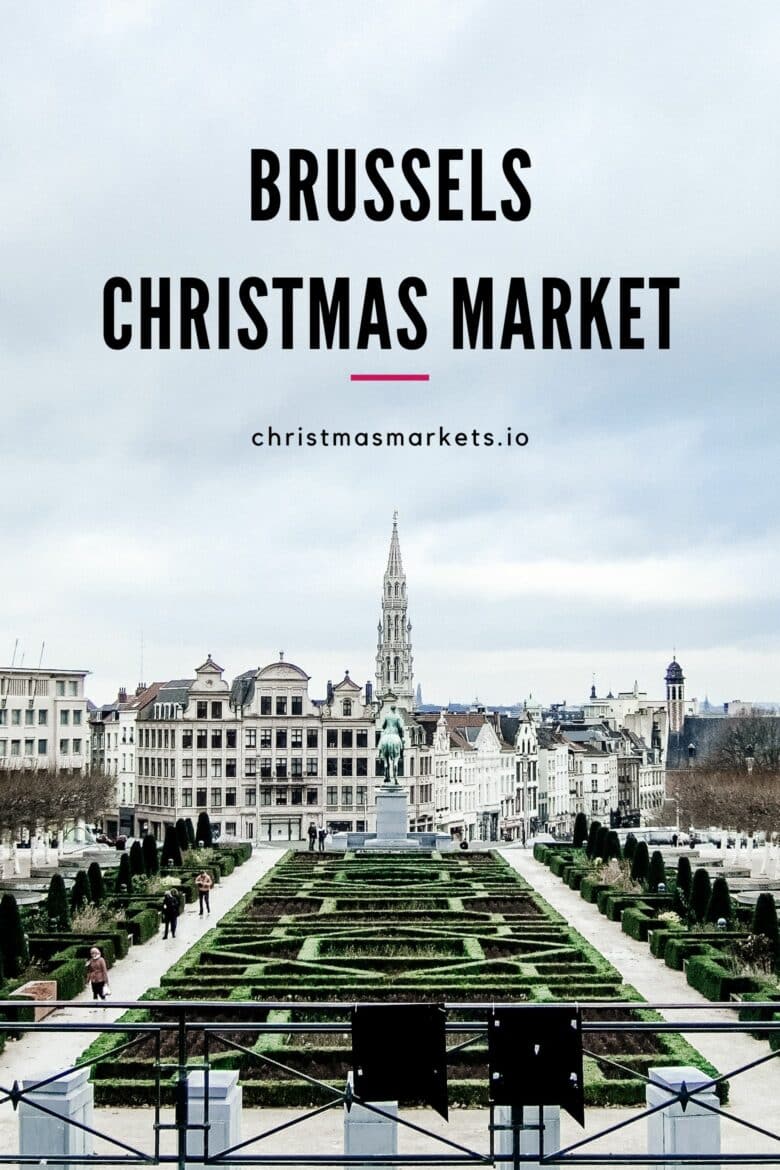 Sustainable Travel Tips
The choices we make have an environmental and social impact on the places we visit. When visiting the Christmas markets, it's important to keep sustainability in mind.
Implement some or all of these simple measures to create a positive impact.
Shop mindfully. Only purchase what you really need.
Walk, cycle and use public transport to get around.
Stay in a sustainable hotel powered by renewable energy.
Stay in hotels. Short-stay apartment accommodation can lead to a lack of affordable housing for locals.
Avoid using plastic or buying items made or packaged with plastic.
Try to eat locally sourced organic food where possible.
Limit your consumption of meat and dairy.
Be open to diverse cultures and experiences.
Explore more than just the main tourist areas.
Support the arts and attend local events.
Visit fewer places but stay longer at each destination.
Here are some actions the City of Brussels is taking towards sustainability.
LED bulbs are used for the Winter Wonders illuminations.
Reusable cups have been used throughout the market;
The Christmas tree is recycled.
Electric heaters have been banned to conserve energy.
Reduction of street lighting hours: from 5 pm to 1 am (instead of 1 pm to 1 am).
Monitoring and raising awareness among traders to reduce energy consumption.
Surplus food recovery and redistribution to reduce food waste.
Collaborations with local artists and associations from Brussels and Belgium.
Support for the campaign against street harassment.
FAQ
Does Brussels have a Christmas market?
Brussels has several Christmas markets in different neighbourhoods around the city. The main Christmas market is located at Grand Place.
When is Brussels Christmas Market?
Brussels Christmas Market is open from the 24th November to 31st December 2023.
Where is Brussels Christmas market?
The main Christmas market is in Grand Place (Grote Markt). There are also Christmas markets in front of the Bourse, Place Sainte-Catherine, Marché aux Poissons and Place de la Monnaie. Many Brussels neighbourhoods also have their own winter markets and are nice to visit if you have the time.
What time does Brussels Christmas Market open?
The Brussels Christmas market opens at 12 noon daily.
What time does Brussels Christmas Market close?
The Christmas market closes at 10pm except on Christmas Eve and New Year's Eve when it closes at 6pm.
Which Belgian city is famous for its Christmas market?
Brussels has the most famous and biggest Christmas market in Belgium, but Bruges and Ghent also have popular markets.
If you have any questions or comments about visiting the Brussels Xmas market in 2023 or visiting Brussels in winter more generally, please leave a comment below.
—
Recommendations are independently chosen based on personal travel experiences and extensive research. This post contains affiliate links to hotels and tours in Brussels, Belgium. This means I get a small commission from any bookings at no extra cost to you.
FAQs
There is something for everybody at this magical holiday season event. Brussels Christmas Market 2023, has over 200 chalets and is one of the best Christmas markets in Europe, and here you'll find wonderful Christmas gifts and festive treats to fill your Christmas stockings.
How many days do you need for Brussels Christmas market? ›
The Brussels Christmas market is a 5-week event and will take place from Friday 24 November 2023 up to and including Sunday 31 December 2024. You can enjoy the festivities daily from 12 noon until 10 p.m. (6 p.m. on 24 and 31 December).
Do you need tickets for the Brussels Christmas market? ›
It's free of charge and you can watch it as many times as you want. We usually start and end our Brussels Christmas market visit here.
How many stalls are in the Brussels Christmas market? ›
The Brussel Christmas market takes place in several different squares in the city. More than 250 wooden stalls are spread out over the entire capital, giving the city a gorgeous festive look.
Is Brussels or Bruges Christmas market better? ›
As Bruges is a small city, you won't find the big fairground attractions that you would at the Brussels Christmas market. But you will, however, find in Bruges the most Christmassy, cosy and intimate atmosphere of all the Belgium Christmas markets.
What is best European city for Christmas markets? ›
Which is the best Christmas market in the world in Brussels? ›
Winter Wonders ('Plaisir d'Hiver' in French, 'Winterpret' in Dutch) has been named the best Christmas market in the world by popular travel website Big 7 Travel, beating the famed festive attractions in Berlin and Dresden.
Where is the best Christmas market in Belgium? ›
This year, Brussels Christmas Market will be open from November 24 until December 31, 2023. Brussels Christmas Market (aka Brussels Winter Wonders) is probably the biggest and the busiest of all Christmas markets in Belgium.
How many nights in Brussels is enough? ›
A stay in Brussels should be a minimum of 3 days. This allows you to see all of the sights and attractions in Brussels, and there are loads! 3 days also encompass time for you to explore the city for yourself, which is one of the best things to do in Brussels as the city is so picturesque and pretty.
Do I need cash for Christmas markets? ›
Lots of Christmas markets are run by locals and are cash only, which generally gives you the opportunity to haggle and negotiate with the vendor. If you're buying for family and friends, why not quote another price you've seen or ask if they'll do a bulk discount.
Many shops and restaurants in Brussels accept credit cards, but not all. It is, therefore, recommended that you either ask before you order or ensure you have enough in cash to cover the bill.
What to buy at Belgian Christmas market? ›
Gluhwein/Vin chaud – The most popular drink at the Christmas markets is gluhwein. Hot mulled wine infused with spices like cinnamon and cloves, it's the perfect thing to keep you warm. Waffles– Waffles are practically synonymous with Brussels, but did you know there's no such thing as a Belgian waffle?
Which city has the best Christmas market? ›
Which European city has the biggest Christmas market? ›
Vienna, Austria

The city with the largest Christmas markets by visitor numbers is also one of the most famous.